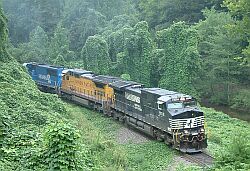 Welcome to the RRPictureArchives.NET contributor site of Travis Jackson.

I would like to thank all of my fellow railfans for checking out my pictures. As you can see, my name is Travis, and I have been a huge train nut my whole life. I started out filming trains when I was about 11, and have filmed and photographed anything on the rails ever since. I try to get the best shots that can with what I have on hand, I'm not much of a roster shot guy, but I will take roster shots if I see something interesting in a consist. All of my pictures are from Southern California, so you have come to the right place for pictures of deserts and mountains. I have a YouTube channel that you can find here https://www.youtube.com/user/TrainTrackTrav . Be sure to check it out.

You may browse my collection of pictures via the menu located on the left hand side of the page. I hope you enjoy the collection and thanks for stopping by!
Note: This site is best viewed in Internet Explorer 6.0 or above.
Select one of the links from the menu on the left to begin browsing the collection.